MARCO ISLAND, Fla. — Research into prehospital medicine treatment, transport and medication decisions is abundant, with recent research focusing on issues including ketamine, head-up CPR, whole blood administration, blood pressure limits and ECMO CPR.
In a session at the Pinnacle EMS 2022 leadership conference, David Page, MS; Hezedean Smith, DM; and Ayanna Walker, MD, presented an interactive session to help participants dissect research methods and results, learning how to interpret the studies and apply the lessons learned to clinical practice in their systems.
About the speakers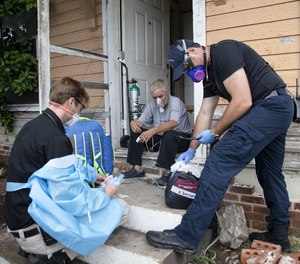 David Page, MS, is the director of the Prehospital Care Research Forum at UCLA and active field paramedic with Allina Health EMS in Minneapolis/St. Paul, Minnesota. He is the current and founding chair of the International Paramedic Registry assessment and credentialing board. He is an adjunct senior lecturer and PhD candidate at Monash University, in Melbourne, Australia.
Hezedean Smith, DM, serves on the National EMS Management Association Board of Directors. He became Fire Chief of the Charlottesville Fire Department in Charlotte, Virginia in 2020 after 25 years with the Orlando Fire Department.
Ayanna Walker, MD, is the EMS medical director for Osceola County Fire Rescue, Kissimmee Fire Department, and St. Cloud Fire Rescue in Florida. She is also the medical director of paramedic education for the Orlando Medical Institute. Dr. Walker is board certified in Emergency Medicine, with a sub-specialty certification in EMS.
Top Quotes
Following are quoted from the presenters on digesting clinical research:
"Research helps us to organize paradigms."
"We try to accumulate the evidence, see what we have and then see if we can make a change."
"There's tens of thousands of research papers. Pick your topics and use your time wisely."
Top Takeaways
The audience broke into small groups, and Page, Dr. Smith and Dr. Walker facilitated discussions on four recent research papers, helping to consider their validity, what we learned and areas for future research.
1. Determine if the research is worth your time
Page shared strategies for performing a first pass and forming initial impressions about a research paper. Consider:
Why did I read past the title? "Does it grab you?"
Who, what, where, why and how much money? Consider where the funding is coming from and any conflicts of interest.
Your time investment. Does this paper have the potential to really change your patient care?
Personal impact. Is it important to you personally, professionally?
2. Start with the end in mind
In the group presentations, Maria Beermann-Foat, PhD, MBA, NRP, who has a PhD in organization management, and a focus on application of research methods for organizational improvement, share her best practices for reading research papers.
Dr. Beermann-Foat advised fellow attendees to start with the end in mind. She approached the first paper by examining their study methodology and exclusions. Once she was confident the researchers had done their due diligence, she skipped to their conclusions. By reading the researchers findings first, it's an easy way to frame your understanding of the research scope, and evaluate how they got there as you go back and read the study in its entirety.
3. Evaluate research efficacy, relevance of findings
Page, Dr. Smith and Dr. Walker shared strategies for poking holes into research and identifying any weak spots.
Page shared 5 questions to ask of any research paper:
Was there a good comparison group?
Was there a plan?
Who knew what, when?
What was left out?
How much did things change?
In the study limitations section, researchers will identify where challenges prevented them from obtaining additional data. Patient population subsets, mechanisms of injury, or treatment center types can all be excluded and identify areas where findings are less concrete, and areas for future research.
---

Special Coverage
What paramedics want in 2022
Learn what EMS Trend Survey data reveals about morale, technology and innovation adoption, and action items to improve employee engagement
---
Additional resources
Learn more about current and ongoing prehospital medicine and workforce research with these resources: