Whether you are disabled or not, eating healthily is something we should all be doing. As January is often a time for self-improvement and goal-setting, the new year might give you the ideal opportunity to change your eating habits. But if you have a disability, you may need to find a meal plan that is adapted to fit your needs and abilities.
Here, nutrition advocate, Tracy Williams, shares 5 adaptive food plans for disabled people and accessible ways you can cook meals.
I have a degree in Nutrition and Dietetics from Dominican University and consulted for three organisations that serve the disability community in America. I myself have cerebral palsy, so know all too well how important good nutrition is for your body, no matter what your disability.
There are great meal plans to help you to try to stay healthy, promoting good food choices without calorie or food group restrictions.
Mediterranean diet
A Mediterranean diet includes whole grains, fish, seafood, fruits, vegetables, herbs and spices, nuts, seeds and various legumes. These provide healthy fats and fibre, which helps with gut health, brain health and heart health.
When you are beginning the Mediterranean diet, you might want to ease into the meal plan. Consider having meatless meals and fish or seafood meals two to three days a week. 
Chicken or lean meat may be consumed one to two days a week, while red meat is only consumed occasionally. 
Mediterranean diet recipes
Creamy Chicken Marsala – an easy 20-minute, delicious, and creamy chicken marsala! Serve over whole wheat pasta or brown rice.
One-Pot White Bean Pasta – this white bean pasta makes a wonderful one-pot family meal ready in less than 15 minutes. It's everything you want in a pasta dish: it's comforting, packed with fresh ingredients, protein, veggies, and it's no fuss.
DASH diet
The DASH diet (Dietary Approaches to Stop Hypertension) is a healthy eating plan designed to help treat or prevent high blood pressure.
It includes foods that are rich in potassium, calcium and magnesium, all nutrients that help to control blood pressure.
This meal plan focuses on fruits, vegetables, lean protein, low-fat dairy, nuts, seeds and legumes.
The DASH diet provides daily and weekly nutritional goals. The number of servings you should have depends on your daily calorie needs.
High-nutrient grains, such as brown rice, quinoa, whole grain pasta, bean pasta, as well as whole grain bread for a sandwich, should be consumed six to eight times a week.
Fruit and vegetables should be consumed four to five times a day. Low-fat dairy can be consumed two to three times a day from foods including yoghurt, cheese and cottage cheese. Reducing how many times you consume dairy milk may help you alleviate mucus if you have a lung condition or environmental allergies. 
Lean meat, poultry and fish should be consumed six times a day, with the serving size being one ounce each time. Nuts, seeds and legumes should be eaten four to five times a week. Healthy fats and oils should be considered two to three times a day.
DASH diet recipes
Flexitarian diet
The flexitarian diet is essentially a flexible alternative to being a vegetarian. The focus is to have plant-based meals, which means high-fibre grains, beans, nuts and legumes, as well as fruits and veggies with occasional meat, chicken or eggs. 
Being a vegetarian may not be convenient if you still love a burger or steak and you do not want to restrict them, making the flexitarian diet a good option.
It is simple to ease into the flexitarian meal plan. It would be a great idea to start consuming more fruits, veggies and healthier grains. It is better to focus on plant protein instead of animal protein, but it is okay not to avoid animal protein. 
Be flexible and incorporate meat and animal products. Consume less processed foods and more natural sources of food, while reducing added sugar and sweets.
Flexitarian diet recipes
Sweet treats and healthy desserts
It is best to not ignore your sweet tooth but just focus on small portioned desserts, such as small brownies, cupcakes or small muffins, instead of a large piece of cake or a larger brownie. 
Fruit cake or fruit salad is another healthy dessert option or even just individual fruits such as bananas, peaches or strawberries.
Healthy desserts recipe ideas
Peach crisp – This top-notch recipe features fresh peaches, brown sugar, oats and a kiss of cinnamon that combine for a perfectly gooey dessert.
Strawberry oatmeal bars – These are a healthier fruit dessert made with fresh strawberries, whole grain butter crumb topping, and a lightly sweetened vanilla glaze.
Cranberry orange muffins – Buttery and moist, these cranberry orange muffins are heavy on flavour and burst with cranberries in each bite.
Liquid intake
As well as eating the right foods, we should all be consuming liquids. The amount of water a person should drink daily differs between different health authorities. The NHS recommends six to eight cups or glasses a day.
The U.S. National Academies of Sciences, Engineering and Medicine determined that an adequate daily fluid intake is about 15.5 cups (3.7 litres) of fluids a day for men and about 11.5 cups (2.7 litres) of fluids a day for women. 
You don't have to limit yourself to water – tea, 100% fruit juice and coffee can be included to improve your daily hydration habits, just be mindful of how much sugar and caffeine you're consuming.
You might also like to make smoothies at home to get in your five-a-day and liquid requirement. Again, just be aware that blitzing fruits in particular can release more sugar and reduce fibre.
If you have limited hand function, there are large buttoned blenders on the market to make using one easier.
Many people have bowel or bladder health issues, so liquid intake can help alleviate these concerns.
However, it is a well-known concern that people with disabilities may restrict their liquid intake because they have difficulty finding an accessible bathroom in public. This should not happen as it can lead to dehydration and urine infections. 
If you ever feel you need to restrict your liquid intake, it is advised you still drink as much as you can and plan carefully how and when you access toilets.
If accessing or holding drinks can be difficult for you, try the Hydrant water bottle, which has a long tube and bite valve that allows you to drink hands-free from a sofa, wheelchair or bed.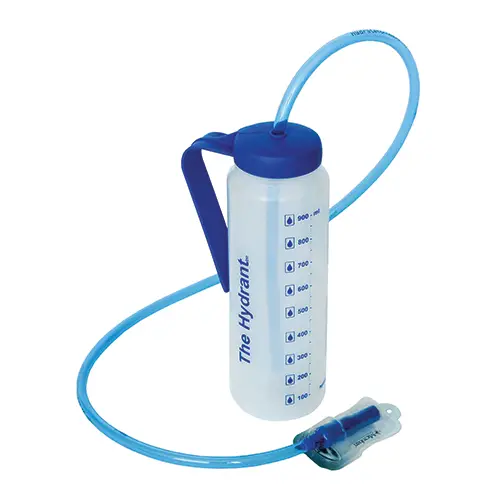 Healthy drink recipes
Green juice – This green juice recipe is easy to make in a blender and packs in the nutrients! It's bright and deliciously refreshing. Filled with blended green veggies including spinach, celery and cucumber.
Fruit and yoghurt smoothie – A healthy smoothie filled with berries, bananas, teaspoons of pineapple juice, orange juice and white sugar and yoghurt.
Additional advice and meal plans for disabled people
Here are a few additional resources with information and recipes for eating heality with a disability or health condition:
Assistance with cooking and adaptive kitchen aids
There are no limitations when it comes to cooking if you have a disability, whether you do it by yourself or with assistance from a family member, spouse or carer. 
There are also lots of adapted kitchen aids, such as cutting boards with non-slip bottoms and nails in them to hold food while cutting, as well as easy-grip cutlery. 
If you have trouble chopping food, you may consider purchasing an electric chopper to ease hand pain or a jar opener with a wide grip. 
If you're blind, you might want to use a talking thermometer, microwave and scales, plus a liquid level indicator when pouring drinks. 
Whatever meal plan you choose, cooking multiple batches of food and storing them in the freezer will save you cooking every day and will benefit anyone living with chronic fatigue.
Check out our range of kitchen aids on the Disability Horizons Shop, which includes the Tipsi Tray one-handed no spill tray, Knork knife and fork in one and Coolhand hot plate holder. 
By Tracy Williams
You can connect with Tracy Williams at www.tracysplate.com.
More on Disability Horizons…